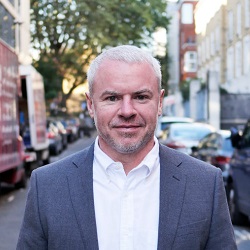 Global PR and communications firm, Cognito, announced the launch of a new office in Sydney recently, its first in Australia. The new office is led by Managing Director, Scott Schuberg, who has been tasked with building the business that extends Cognito's reach from the key financial centres of London, New York, Amsterdam, Singapore and Hong Kong. We caught up with Scott to chat about the launch and asked about the drivers behind the launch, the opportunities and challenges in the Australian market, and what Cognito is looking to achieve here.
Scott, Cognito arrived on the scene in Australia at the start of the year, but it is hardly a new name in the communications space in APAC. Can you start by giving us a quick overview of Cognito's origins, operations and focus?
Cognito began its journey in the late '90s in London with founder and CEO Tom Coombes. Tom grew Cognito's presence throughout Europe and North America, and he was early to pick up on the evolution of Fintech in Asia, opening a Singapore office in 2010, then Hong Kong a few years later. We began talking about opening an Australian office in August last year, and we went live in January.
On sectors, we keep a tight focus globally - financial services, professional services and technology, and wherever those three specialisations intersect.
Our core competencies are media relations and strategic communications consulting as well as crisis and issues management, and as an integrated agency we often plan and execute digital, social and content strategies to add fuel to a client's influence.
It is true we're not a new name in APAC, but we need to earn our place in Australia. Being fed opportunities from our offices in London, Amsterdam, New York, Singapore and Hong Kong has helped us launch comfortably; however, we want to be a leading local name here and that will come in lockstep with the results we get for local brands.
What is YOUR origin story and why are you the right person to establish Cognito in the Australian market?
I met Tom Coombes while I was briefly working at the London Stock Exchange in 2004. My career deviated a lot from investment and marketing communications since the mid-2000s and for the last 15 years I've worked in financial services, rather than pure financial services communications. But my passion for building brands and writing influential prose drove me back to comms.
I have a deep understanding of capital markets, asset management and banking and use that to tease out specialist opportunities and place client messaging where they want it to be. I also work closely with Cognito's account management teams in APAC and draw on the senior strategic media counsel available globally
In the midst of a pandemic might seem an unusual time to expand into new territories - why now and why was Australia chosen? What is it about this market?
We're hearing a lot about the challenge of hiring and retaining great staff, and the most acute dynamics of this advent have come about during the pandemic. The bosses are no longer calling the shots, the employees are. Resource shortage among communications agencies is a threat for us too, but it is also an opportunity.
There are some excellent agencies in our space in Australia, but not all of them have the capacity to take on new business because of this employee supply shortage. As a new entrant with the backing of a global brand and its APAC resources, Cognito is building into a comfortable position where it will only take on work where we have the capacity to meet or beat client expectations, and we do benefit from economies of scale and a highly collaborative APAC team. My first hire was a transfer from the Singapore office.
Despite the challenges of the pandemic, we do not have a new business problem to solve right now. But I don't take that for granted - these dynamics shift quickly.
Regarding the Australian market, Cognito's global clients have wanted us to be here for a while now. We want to keep control of our relationships where we may have previously been forced to brief in other agencies in Australia, and the border issues made it difficult to open until now.
What are some of the opportunities and challenges facing Australian brands?
Third party advocacy is and always will be every brand leader's goal when it comes to increasing their influence, reach and authority. That is a perennial opportunity that we have the experience to help clients take advantage of. In the context of a healthy economy with offshore and domestic investment dollars available for new ideas, it's a great time for brands to tell their stories well.
On challenges, there is a stack of answers I could throw in here about regulation in the financial services space, well-funded competition and USPs, but the primary issue that comes to mind is that companies are burning out from the pace of business and the increased workload that has come from HR issues and tactical responses to workplace shifts related to the pandemic. I don't deal with any clients who aren't flat out right now. As a result, clients are so stretched - they need to import creativity because they don't have the bandwidth to think their way through their communications challenges from the inside of their own hallways (or living rooms!).
What are some of the opportunities and challenges for Cognito in this market, and what are you looking to achieve in year one?
Multinational brands find comfort in directing work to agencies when they've experienced positive results from offices in other markets - so assisting the local marketing and comms teams of international brands is a big opportunity for Cognito in Australia.
This is a two-way street - there are also huge opportunities for us to internationalise local brands, especially in tech and fintech, to markets in Asia, Europe and North America where we have a presence.
In year one, we'd like to hold a portfolio of client work that represents the industries where we excel, and a staff of four to six Cognitians (our tribe name), targeting 20 to 30 staff in coming years. If we can begin that journey by building a really healthy workplace culture and beating the expectations of our early clients in 2022, I'll be thrilled.