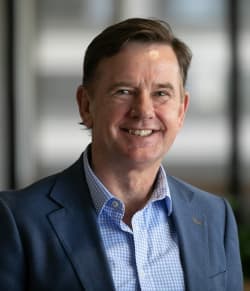 Welcome to the Telum Spotlight, a quick insight into some of the interesting people in the PR and Communications space, as well as freelancers and those launching their own boutique agencies. Today we shine the Spotlight on David Breen in Sydney. David has over 15 years' experience in the PR and communications industry, most recently at ING Australia, where he was Head of Corporate Affairs for over 14 years. He recently launched his own consultancy, DB MEDIA GROUP. 
By way of introduction:
I'm a former schoolteacher, journalist, News Director at Network Ten, Head of Corporate Affairs at ING Australia and now Director of DB MEDIA GROUP. I've spent roughly half of my career in the media and half in corporate communications and PR. I'm fascinated with the way people present themselves and communicate to colleagues, teams, the board, and the public. Some people are great, but many can be better. Those who are good add enormous value to their personal and corporate brands. I'm helping businesses and executives improve communication skills.
First job:
My first real job was a primary school teacher on a Year 6 class. Geez I knew I was alive when I was thrown straight out of uni into teaching a class of 11 / 12-year-olds. I'd never worked harder and have a lasting admiration for teachers who are good at their craft. These teachers would be great in the PR profession.
One thing you would change about the communications industry:
Proper recognition and understanding of the power of PR. Too often, marketing has the upper hand because marketing budgets are generally bigger. Smart businesses build their brands through PR and use marketing to leverage the talkability generated by great PR ideas and corporate positioning. Of course, it takes great communicators within organisations to drive the advantage home.
Most admired person in comms:
Ukraine President Zelensky - obviously he's not a comms person per se, but an example of someone who is demonstrating the power of great communication to save his country. A comparison of communication styles between Zelensky and Putin is stark, and it's obvious who's winning.
Most admired journalist:
Apart from my wife, Celina Edmonds, I'd have to say Tony Boyd. Tony has a great capacity to get to the heart of an issue as a story is breaking. He has a deep understanding of how corporates work and is very fair and thorough. He's prolific, and a nice bloke.
Advice to anyone starting out in comms:
Be curious about everyone around you - it's the best way to learn. Also, analyse the stories that generate widespread interest and better understand what makes it a good story. After that it's a matter of keeping across all the various channels and understanding the strengths (and weaknesses) of using those channels to get your story out there.
Essential daily reading:
All news outlets. As you would expect, I'm a news junkie and will drift across all local mastheads, commercial and ABC during the day and international outlets such as the WSJ, the FT and Bloomberg in the evening and first thing in the morning.
Favourite book:
The Narrow Road to the Deep North - Richard Flanagan.
Favourite film:
I'm a sucker for Quentin Tarantino movies. I loved his latest, Once Upon a Time in Hollywood.
Dream holiday:
Walking the Camino trail across Europe
Clickbait fact about you:
I once sat between former CNN boss Ted Turner and his then wife Jane Fonda at a dinner. They weren't getting on.
Quotable you:
"What are they doing….????" (Referring to someone performing badly in a media interview)