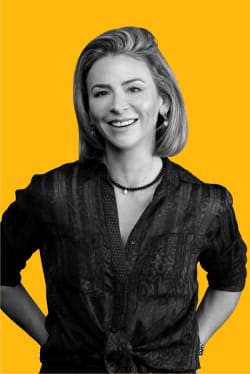 PR and communications agency, Keep Left, recently celebrated its 21st birthday. We chatted to Founder and Executive Director, Caroline Catterall, about launching and running her own agency, and the evolution of the PR industry over those 21 years.
What led you to starting the agency at 23 years of age?
One year out from university I landed a job in agency land at Hill+Knowlton. There I had the chance to work with Telstra and some fast-growing tech companies. This was around 25 years ago and was the beginning of the internet and a really exciting time. I loved the work because it just made sense to me, it added value for people, and I got it, but the dot com crash happened and we all got made redundant.
In the aftermath, one of my former clients approached me to work in-house. His name was Stephen Melville, and the company was Ingena. After a couple of years, aged 23, I sat down with him and told him I wanted to go out on my own. I said I want to leave, but I still want to work for you as a consultant. He said yes and Keep Left was born.
If you could go back, would you do anything differently?
I don't spend much time looking back, but there are a few pitches I would do differently if I had my time again. There's one in particular that I really messed up!
But we've made it to 21 years with no debt and consistent strong YoY growth, thanks to the business partnership I struck with Gillian Gosling nine years ago that's worked out great. I'm very happy with how it's all turned out. In between all of that, many Lefties – myself, Gill, Verity Lowe, Tim Lele and Johanna Murray – have all grown up, gotten hitched and started families. It's a big family vibe at Keep Left which is something I wouldn't change.
What advice would you give to anyone starting out in communications?
When I was starting my career and trying to earn respect within the industry, I lived by three client service principles; be good to deal with, do what you say you're going to do, and work hard to get the result. It's simple but extremely effective. Over time, it's what you'll become known for, and the opportunities will come knocking.
What do you like most about the PR and comms industry?
I'm a naturally curious person. Growing up I tried every type of activity from photography to sports to music to debating, and this continued into my adult life. There's so much happening in our world, and I want to know about it all so working in this industry gives me daily opportunities to scratch that itch.
Our industry has also evolved so much. What I work on today is so different to what I worked on ten years ago – not just because our business has changed, but because the craft has changed. It's been great to be at the forefront of some of this innovation.
Is there anything you would change about the PR and comms industry?
For it to stop comparing itself with, or competing with, the advertising industry. It's like the debate around which city is better, Sydney or Melbourne. They are both great for different reasons!
The PR industry has a lot to learn from advertising and vice versa. We should embrace and adapt the different approaches to strategy, creative and account management, and diversify to grow our revenue streams. In today's modern communications landscape a hybrid approach wins.
Have you experienced the PR industry professionals shortage when trying to hire recently?
Yes, absolutely. But as they say, necessity is the mother of invention and we've hired some great, diverse talent on account of this. 2022 has been the year of the 'vibe hire' at Keep Left. We've been hiring for attitude and because we think the person is a great brand fit. So far, this strategy hasn't missed.
What's next for Keep Left? Where do you see the agency in the near future?
Just last month we launched our new brand positioning 'Ideas People Choose' which clients (and future clients) have been responding to extremely positively.
It's about applying an earned lens not just to PR but to the entire marketing mix and helping clients do more with less. While we've only just started talking about this new approach externally, internally it's put into action on several pitches now and we've had a great win run-rate of late.